• Sewing Links
• Fashion Crafting
• Art for the Sewing Room
• Free Newsletter
• Fabric.com

• Knitting and Crocheting



2010 Sewing Desk Calendar


Get children interested in sewing with their own machine.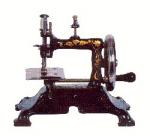 Antique Replica Handcrank Chainstitch Sewing Machine
This all metal machine is a show piece and not meant for regular sewing.

Tucks away into a Drawer! Convenient and space saving Ingenious mechanisum pops-up and unfolds into full ironing board
Sewing Projects


Scented Trivets
This quilted hot pad is actually a fabric envelope that holds a scent. When a hot teapot or casserole is places on top, the pad gives off a wonderful aroma while protecting the tabletop.
Materials


Two 10" x 10" pieces of cotton fabric
Two 10"" x 10" piece of cotton batting
2 yards seam bias tape, double folded, 1/2" or wider
Whole cloves
Whole allspice
Dried citrus peel
Broken cinnamon sticks
Star anise
Rosemary


Equipment:


Needle and thread or sewing machine


1. Sandwich the cotton batting between two layers of cotton fabric. Sew around three edges decorative side out. Fill with about 1/2 cup of spicy mixture between the 2 pieces of batting. Now sew the fourth edge.
2. Stitch bias tape along the outside edges, turning under the edge at the end of the tape to form a clean finish.

Snuggle Sock
Materials:


Feed corn
Two pieces of material 12 inches by 6 inches- a soft strong fabric works best
Optional- Lace or Ribbon to edge the pillow.


1. Sew three sides of the fabric- wrong sides together. Turn the pillow right side out, fill with corn, then finish sewing.
2. Embellish with ribbon or lace around the edges if you'd like. Used like a heating pad it will retain the heat for several hours. Or keep it in the freezer for a cold pack.
If this is to be a gift the following can be attached:


This is called a "snuggle sock".
We made it just for you.
It's good for all your aches and pains,
Cause it makes you feel brand new.
Just pop it in the microwave,
And turn it up to one,
And then before you know it,
Your "Snuggle Sock" is done.
Now take it to the Living Room,
And lay down on the couch,
And press your toasty "Snuggle Sock",
On the nagging little "ouch".

Basket Garter
Supplies:


Basket
Fabric Scrap
1/2" Elastic
Sewing Machine
Thread


Procedure:
1. Measure the circumference of the basket. Double that measurement for the fabric length. Use the circumference for the piece of elastic plus 1".
2. Cut the fabric (length as above) about 5" in width. (Use a narrower width for smaller baskets)
3. Fold lengthwise right sides together and sew seam 1/4" from the raw edges.
4. Turn right side out and press, leaving the seam on the bottom edge.
5. Secure the elastic at both ends and sew 2 rows (1 on either side of the elastic) the length of the garter.
6. Turn raw edges under on one end and sew on top of the opposite end. Slip around your favorite basket and enjoy.

Handkerchief Dolls and other craft ideas with handkerchiefs.

Pouty Baby
Materials:


50" of 3/4" pvc pipe
four 3/4" pvc 90 degree elbows
pvc cement
2 pair of mens stretch socks
stuffing
18 or 2T long sleeved footed sleeper, overalls, or jeans, and a shirt
baby socks
Syndee doll meduim or large wig
toddler hat
Hot Glue
Accessories for back pocket


To make the 'skeleton': From the pvc pipe cut two 14" pieces, one 4" piece, and two 1 1/2" pieces. With the pvc cememt attach one elbow to each end of the 4" piece and then one 14" piece into each elbow, making a sort of U shape. Next cement one elbow onto the other end of the 14" piece, and a 1 1/2" piece into each elbow facing forward for the feet. (This helps keep the shoes on and helps the baby stand.)
For hands cut two 6" circles from the mens socks, baste a row of gathering stitches around the perimeter, put a handful of stuffing in the circle, and draw up the gathering stitches. Next sew the hands onto the arms of the sleeper.
Add a little stuffing into the toe of the sleeper, insert the skeleton (armature) into the sleeper, and stuff the rest of the body. (Don't stuff under the armature on the feet or it won't balance.)
Cut 7" off the toe area of the sock, baste a row of gathering stitches around the top, and stuff for head shape. Gather the head and slipstitch it in place on the neck of the baby.
Dress your doll.
The premade Syndee doll wig is sewn in a circle over netting. Cut to between the strips of hair, ending with a 2 foot long string of hair which can be glued to your hat. The hat can then be glued to the head. Trim the hair and add any accessories to your babies back pocket.
Tack the hands to its face and stand it him or her in the corner.

Sew a T-shirt Quilt

Make this elegant Brocade pillow with ribbon roses

No Sew Projects


Latch Hook Kit 20''x27''-Country Cottages
Knot A Quilt Kit
Foot Print Shirt
Take a light colored shirt, pre-washed and ironed. To make a baby's foot print make a fist- place in fabric paint and print on a test piece of paper. Using your finger add 5 toes. Once you're confident "walk" over the shirt. After it dries write " My granchildren walk all over me". This would be cute in red and green for Christmas or in pastels for a new Grandparent.

Mouse Pad Quick Craft
Is your mouse pad looking a little ho-hum? Why not add a crafting touch with WonderUnder and a favorite fabric. Iron the fusible material to the wrong side of the fabric. Trace the mouse pad shape on the paper backing side and cut out carefully. Peel the paper off and iron the fabric to the mouse pad. But why stop there? How about a matching pencil holder with the same fabric or a coordinating one adhered to a plastic cannister for pencils and pens by the computer? Iron the fusible material to the wrong side of the fabric and cut a rectangle slightly smaller than the container. The fusible web will keep the fabric from fraying. Attach with a spot of glue and then cover with a rectangle of clear contact paper to protect from spills.

Paint a T-shirt
For a personalized and quick gift for a new baby try painting on a baby T-shirt or 'onesie'. Start with a pre-washed shirt (without fabric softener). Secure shirt onto a shirt board or piece of cardboard covered with plastic (this is to prevent paint bleeding through). Transfer an iron on pattern following manufacturers instructions or draw free hand with a washable pen. If you use DecoArt Fabric Paints need no heat setting or fabric medium. Although I have always used fabric medium and my acrylic paints. Perhaps you may also try painting a matching "Big Sister" or "Big Brother" shirt.
Create Custom T-Shirts Online at DesignAShirt.com