• Our Free Newsletter
• Garden Crafts


Dazzling Daffs
Burrows, Hazel
Buy This and other posters

Flowers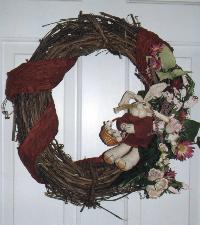 Attach a plush animal to a Spring wreath. They look cute holding a miniature basket of flowers or eggs.
An old mirror can be dressed up by glueing silk flowers around the edges for a fresh new look.
Find a tree branch (size is your choice) Stick it in a terra cotta pot filled with sand, soil, or styrofoam. Decorate with ribbon bows and silk flowers. Cover the base with sheet moss.
Tie a big pastel bow around your flower pots.
Decorate a wreath with Pussy Willows or Lilac with a checked paper twist bow.
Mayday baskets filled with silk flowers
Force Spring Bulbs.
Place a miniature birdhouse on a dowel for your potted plants.
Paint
Dip your childrens hands in paint to make flowers and then add a painted stem & leaves to a t-shirt or sweatshirt. Add some "bud"die loves me.
Stencil or paint on terra cotta pots.
Paint on a piece of barnwood some primitive signs:

Life began in a Garden
Welcome to my Garden
No Weeds Allowed
Leave room in your Garden for Fairies to dance
Gardeners Know the Best Dirt
Hang then by some wire and collect the giggles

Whitewash a birdhouse and place it in an unexpected place - in the bathroom or on a bookshelf.
Easter
Spray paint a tree branch white. Stick it in a terra cotta pot filled with sand, soil, or styrofoam. Decorate it with light weight Easter eggs. (The plastic ones work well or miniature ones) Tuck green easter grass around the base.
I have a basket of painted eggs (wooden) in a large basket on my coffee table. The eggs have been painted with my living room colors in mind. Some have been painted in a marbleized fashion and some have flowers painted on them. One has a bunch of grapes painted on and one has a butterfly. The total look is quite nice and, of course, they can be used year after year.
Click here for an Easter Greeting from me to you.
And see our page of Easter Crafts
Home Decor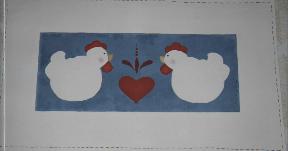 I've just finished painting 3 floor cloths. I would never have imagined how easy and fast they were.
Materials:
I used 1 yard of un-primed white canvas sold by the yard at my local fabric shop.
Gesso
Acrylic Paints
Glue
Sealer
Procedure:
Iron the canvas
Prime with Gesso. I used 2 coats
I ironed under a 1" hem using the width of my ruler as a tool. I mitered the corners and then glued down the edges. I used my sons set of encyclopedias to hold the hem down until it was dry. Cloths pins left marks.
I base coated both sides of the cloth.
Then I painted on my design
I sealed the finished painting with 2 or 3 coats of a water base varnish. Spills just sponge right up.
In my kitchen I have my chickens on a piece of rubber anti-slip backing cut to size
Other ideas include:
Replace winter drapes with a light billowy fabric or sheet.
Tie pastel ribbons around curtains as tie backs.
Use miniature grapevine wreaths as tie backs on curtains. Seasonal silk flowers can be added.
Any left over wallpaper makes a cheerful co-ordinated drawyer liner.
Use 4" size grapevine wreath as hand towel holder.
Especially for Children
Cut large Easter Egg shapes out of construction paper and glue together to form a wreath.
Take a piece of cardboard and cut it in the shape of a sheep. Use a separate piece of black construction paper as a muzzle and cover the rest with cotton balls.